Tips for a Successful Office Move
When you and your team have outgrown your current office or you're looking to downsize, having a successful office relocation plan can help to reduce frustrations and limit interruptions to your regular business schedule. When planning your office move in Greenville, SC, teaming up with a trusted moving company can make your relocation smart and efficient. In addition to teaming up with a trusted moving team, there are a few tips and tricks to help you prepare your move give you confidence in the moving process that will help reduce unnecessary stress that comes with any move.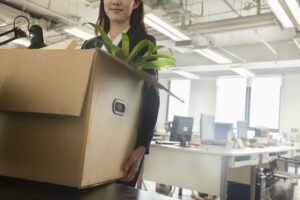 Label and Inventory Everything
Before your move, label everything in your office that you want to move. Make sure that each employee's computer, hard drive, personal items, and office materials are labeled to ensure that they're unpacked at the correct location. Labeling each item and keeping an inventory of where each item should be, especially when it comes to similar looking items, can help to ensure that office equipment, especially considering multiple employee offices in your new office location, is unloaded and unpacked in its designated space. This will help to limit confusion and help to make sure that business can continue as usual without needing to relocate important work-related items. During your office move, transitioning items for your new space can easily become chaotic, especially when it comes to items that look similar such as computer monitors, office chairs, generic equipment. Planning for your new office move and labeling equipment and resources with the room where it needs to go or the employee who utilizes it can reduce the headache of keeping items organized during the packing process.
Wrap All of The Electronics and Fragile Items
Utilizing bubble wrap and other packing materials to move items like computer monitors, glass, and other fragile items creates safety and security in ensuring that the equipment that keeps your business running smoothly makes it to your new office seamlessly. Teaming up with professional office movers in Greenville, SC, and wrapping your fragile and valuable items for any office relocation is the best way of ensuring that your office equipment is secure during the move.
Create An Organization System
When it comes to moving an office, creating an organizational system within your packing for bulk items can help to ease the relocation process. It can also help to ensure that you can find and unpack as they're needed or utilize storage space for items that you don't have an immediate need for. Utilizing an organization system can also make it easier to locate other items that aren't needed to day to day activity after your initial office move. Using categories can also help to separate items that can be easily stored conveniently and long-term without getting damaged or expiring.
Some Suggested Organization Categories:
Paper products (printing paper, post-its, notepads, file folders, etc…)
Dry cleaning supplies (paper towels, toilet paper, sponges, etc…)
Generic office supplies (pens, ink cartridges, paper clips, staples, etc…)
Extra computer equipment (flash drives, keyboards, computer accessories, etc…)
Measure Your Furniture Before Moving Day
Whether you're moving to a larger or smaller office space, it's important to make sure that all of your office furniture fits the space properly. Measuring beforehand will make sure that your furniture fits properly and that your desks, chairs, and additional furniture will match the vision that you have for your new office and allow you to plan ahead if you're planning to get any additional furniture. This will also help you if you're planning to dispose of any items that your office no longer needs instead of paying to move them and deciding later that current pieces of furniture don't meet your changing office needs.
Request That Employees Move Personal Belongings and Valuables Themselves
When moving individual desks, employees will often have fragile or delicate personal items that they keep such as framed photos, awards, and sentimental items. To ensure that these items are protected and don't get damaged in the move, encourage employees to move these items themselves. Providing team members with individual boxes and packing materials to move their items will help to reduce confusion and ensure that team members have peace of mind during the moving process. This will help keep your team members from worrying about their belongings and take the stress off you from having to worry about ensuring that employee possessions are kept safe during the move.
Move On A Schedule That Doesn't Disrupt Business
Choosing a moving day that is practical for your business type can be difficult. You don't want to disrupt your business day to complete office relocation, and planning ahead can ensure that your employees and movers are on the same page during your move process. There are a few ways to ensure that your office moves are managed in a practical way for your relocation.
Shut down the office for the day: If your business regularly has customers or clients visiting your office, electing to close for the day might be the best plan of action to ensure minimal disruptions while your Greenville office moving company works to complete your transition
Ask employees to work from home for the day: If your team can work from home for the day, sending them home to allow for your office relocation move team to work freely and quickly as they pack and move your office space without impeding productivity.
Schedule the moving day for when your office is typically closed: Many office moving companies in Greenville, SC offer weekend moving services. This way, you can schedule a time with your relocation company that accommodates your office schedule by allowing you to close on Friday at your old office and open on Monday at your new office without disrupting your business or your employees.
Team Up With A Trusted Moving Company for Your Greenville, SC Office Move
Scheduling and preparing the relocation plan for your office moves can be stressful, but finding an office mover that specializes in ensuring that your office move is managed quickly, efficiently, and on your schedule can take away many of the stresses. Top tier moving companies in Greenville, SC can help you plan, schedule, pack, and relocate your office. Full-service moving companies will work with your goals and schedule to ensure that you have a positive office moving experience.
Teaming up for your move with Greenville's trusted office moving company, The Moving Gurus, will ensure that you have a team of movers who are focused on making your office move as painless as possible. Request a free quote and find out how The Moving Gurus can plan your office move today!