Our Mission
We promise A Peaceful Move
Furniture – Appliances – Clothing
These are the typical things you think of when moving your life from one place to another. The Moving Gurus will professionally box, load, store (if needed), unload, and unbox everything that is important for life to continue at your new home.
Pianos – Pool Tables
With most every move there are the items that "outside the box" …literally. The Moving Gurus can handle those as well. We can move a heavy piano or pool table, and even dispose of any junk that you do not want following you to your new home.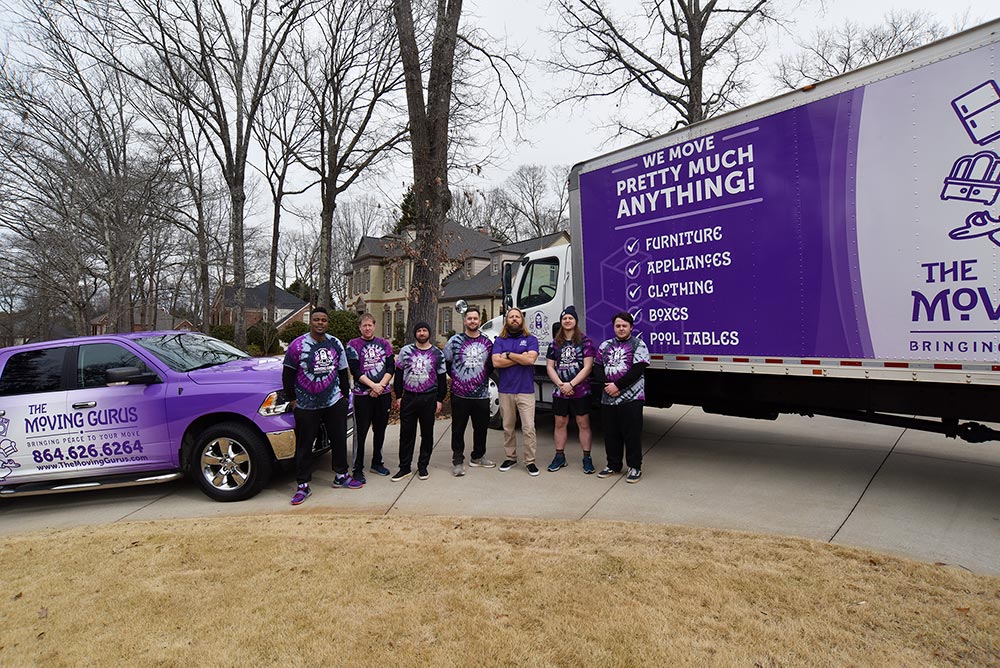 2 Moving Gurus
$135/HR – Everyday
Loading and unloading household or office items
Packing and unpacking
Moving furniture around in your house
Estate Cleanouts
Demolition
Junk Removal
2 Moving Gurus + 26′ Moving Truck
$135/HR – Everyday
+ $2/mile between locations
Personal & Family Moves(home, apartment, storage units, etc…)
Commerical Moves

 

(offices, warehouse, etc…)
Equipment Relocations
Church Relocations
Supply Deliveries
Concerts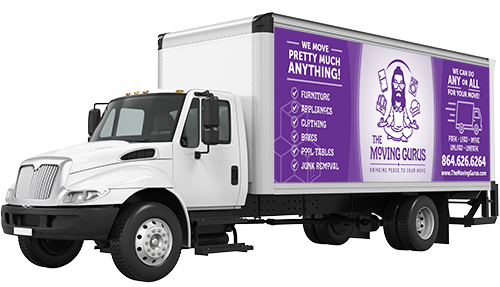 No-Hassle Relocation with Professional Moving Companies Near Me in Greenville, SC
Moving to a new house can be an extremely frustrating time, particularly when you need to relocate a lot of personal belongings over a long distance. However, moving services can significantly reduce the amount of stress this busy time can cause. The Moving Gurus is the leading moving company close to Greenville, SC, offering a range of services designed to save you hassle and frustration. With an experienced team of professional moving experts, we get you from A to B in the most seamless way possible. We move pretty much anything!
What to Expect from Moving Services Around Me?
No matter the size and complexity of your move, The Moving Gurus is your number one moving company in Greenville, SC. Specializing in local and long distance moving, our team of experts is highly trained to deliver the safest and most seamless relocations. With a fleet of spacious moving trucks on hand, and the most attractive rates in the business, we can help you with loading, unloading, packing, unpacking and even removing your junk!
When searching for moving companies, we know that integrity matters. As one of the top-rated moving companies in the area, The Moving Gurus promises a peaceful and stress-free move. When looking for moving company quotes, you will not find a better team!
Call Today to Schedule your Local Movers in Greenville, SC and Nearby
Are you planning a big move? Take the hassle out of the process with The Moving Gurus. Our experienced team can handle even the heaviest loads in both a local and long distance capacity for residential and commercial relocations. We work on your schedule with on-time moving every time. Schedule your move online today, or for more information, contact our team at (864) 626-6264.
Book Your Move
Schedule your Appointment
Use our super easy scheduler to find a time that fits your busy life. We'll then give you a call to confirm all the details, and start your peaceful move.