I don't know about you, but at The Moving Gurus when it comes to storage and packing, nothing is better than plastic storage bins.
Better Than Cardboard Boxes.
Unlike cardboard boxes that decompose over time, plastic storage bins are great for longer-term storage and can be re-used.  They are perfect for heavier items like tools and books, as well as, valuables of any kind (clothing, plates, etc…).  Plastic containers are perfect for keeping items that need to stay hoarded (we mean stored 
in a garage, pod or storage unit.  If you buy the right container, you can stack them 6 or 7 high, and even the cheap containers are good to stack 2 to 3 high. Just another reason that makes them a preferred packing material.
Higher Resell Value
Have you ever tried to sell a used cardboard box?  It doesn't go very well, and you usually end up just giving them away.  If you can't bring yourself to trash or give away those boxes you labeled "kids summer clothes" and "bedroom left nightstand", you end up storing them in an attic where they will age and become be too fragile to use for your next move.
Have you ever tried to sell a plastic storage bin?  Granted, you're not going to break even, but you'll get a lot more than for a cardboard box.  You can, however, break-even (or come close) if you buy your storage containers used from the Facebook Market Place, or Craigslist, then resell them again after your move.
Forts, Shields and Snow Sleds
We've all seen our kids build a cardboard box fort, but let's be honest, the big bad wolf could blow that down.  Now could you imagine a plastic storage bin fort?  That would be something to behold!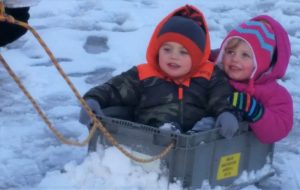 …and then there's using the tops as a Captain America shield (come on dad, paint it red & blue, put a star white star in the middle, and use duck tape for arm holds).  Oh, and plastic bins and their lids make great snow sleds!
Preferred moving materials By The Moving Guru: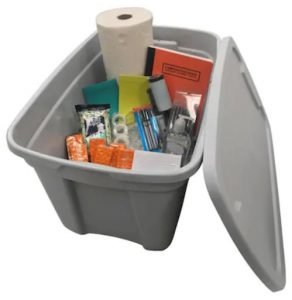 Good: This plastic storage bin with lid is strong enough, and is very cheap.  At $6.50 for the 18 gallon storage bin and $11 for the 30 gallon storage bin version, these bins are a good storage solution.  You can find these Lowe's, Home Depot, Walmart and Target.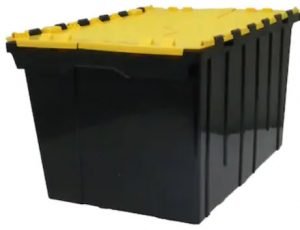 Better:  These are solid plastic storage bins, and we love the hinged lids (that you can't lose).  These are around $9 for the 12 gallon version, and can also be found at Lowe's, Home Depot, Walmart and Target.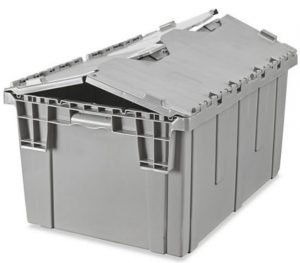 Best: This is a serious plastic storage bin, and is super durable.  You can stack them up 7 high, even with your heavy book collection stored inside.  Now these do cost $45 each from Uline, so are quite pricey.  They might not be the best solution for your move unless you have an alternate post-move use for them.  Optionally, you can get lucky and find these used from a local manufacturing company or on Craigslist for $15-$20 each.  If you buy them used, then reselling for the same price will not be a problem.