Follow These 13 Packing Tips for Your Next Move
Moving is stressful for many people. You need to pack up an entire household and move it to a new home. Then, you have to unpack it and settle into your new living space. Knowing how to pack and unpack efficiently can make things a bit less stressful.
Here are some very helpful tips on how to get ready before your Greenville SC moving company arrives.
1. Start Packing Early
No one enjoys packing before a move.  If you want to make it go as smoothly as possibly, you should start packing as soon as you know the date of the move.  Trying to pack on moving day will make the job exponentially harder on you, your family, and on your movers.  Gather packing materials and make a plan. Then, start packing.
2. Pack in Order
When you need to pack an entire house, you need to pack in a logical order.  The easiest items to pack first are those in the attic, garage, and basement. These are the items that you don't use very often and won't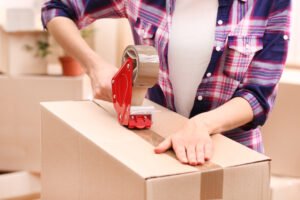 need any time soon. Don't forget off-season clothing, decorations, and sports equipment. The next items are the things you can live without for a few weeks. Pack up your non-essential kitchen equipment, appliances, and utensils. Go through your closet and pack the things you don't wear often. Do the same with the kids' toys and your electronics. The day before you move will be busy. That's when you pack up the rest of the house. On moving day, you break down the bed, pack the bathroom, and finish the kitchen before the Greenville SC moving company arrives.
3. Use Quality Packing Materials
Whether you are doing a long distance move or just going across town, you need to use good quality packing materials when possible. That doesn't mean you should invest a lot of money into specialty packing boxes and high-end tape.  Ask friends and family if they have boxes available. Look on local online forums or Facebook Marketplace for people giving away boxes. Buy tape and pens in bulk to save money.
4. Use the Right Box for What You're Packing
Professional movers always recommend using small boxes for heavy items and large boxes for lightweight ones.  Books are a perfect example of this. If you put too many heavy books in a large box, it becomes a safety issue for you, your family, and the movers. Use larger boxes for bedding, pillows, and lamp shades.
5. Get Rid of Things You Don't Want or Need
Why pay a moving company in Greenville SC to move things you don't need, want, or use? It's a waste of time and money.  As you pack, assess each item before putting into a box. Do you need it? Do you use it? Is it something you no longer want around? If you have no purpose for an item, sell it, toss it, donate it, or give it away.  And go through the boxes you never opened from your last move. You may be surprised at what you find.
6. Set Aside Essentials
Moving day is going to be hectic. You won't be in the mood to unpack everything when you get to your new place.  Set aside a bag or box for essential items you will need before you unpack. It can include toiletries, a couple of towels, medicines, important documents, favorite toys, food for pets, and anything else to get you through the night.  Do not give the essential container to the moving service. You want to keep those items with you.
7. Pack Each Box Safely and Deliberately
A major issue found by movers serving Greenville SC is that some people don't think when they pack a box. They just stuff things in and go on to the next.  Double tape the bottom of every box to ensure it stays together. Always put the heaviest items in the bottom of a box to keep it from toppling over. Make sure fragile items have plenty of packing around them.  Always keep the weight of a box below 30 pounds to ensure no one from the moving companies gets injured.
8. Label Your Boxes
Local movers will tell you that labeling your boxes will save you a lot of time and hassle. Picture this. The professional movers have left. You turn around and see a stack of boxes with no labels. What's in each box? They all look the same. Finding your kids' toys and your favorite linens may take you a lot of searching.  The better solution is to label each box as you pack it. Assign it a number and provide a brief description of its contents. That way you know which boxes have toys and which ones have linens.  Think about where each item needs to end up in your new home. Then, pack it in a box labeled for that room. It will minimize the need to move things around at your new home.
9. Use What You Already Have as Packing Material
Don't pack your towels away in a box of their own. Use towels for padding for other things. You can also use linens, wash cloths, kitchen towels, and clothing as packing material.  It will save you money and save space at the same time.
10. Keep an Inventory
Before your Greenville SC moving company arrives at your current home, you need to have an inventory ready. It should list each box, with a unique number, and its contents. Also, add list each piece of furniture.  Then, using the inventory count what goes on the truck and what comes off. This ensures everything gets to where it belongs.
11. Wrap Up Liquids
Any liquids you plan on having moving companies should be wrapped in plastic. That way, if they tip over, they won't spill everywhere.
12. Leave Clothes on a Hanger
Don't go to the trouble of folding each piece of clothing you have on hangers. Instead, wrap them up in large garbage bags and hang them in wardrobe boxes you can get from a moving company near Greenville SC.
13. Hire Trusted Moving Professionals in Greenville SC
If you are in a hurry or just hate the thought of packing, hire professional moving services to handle most of the packing for you. They can do the job quickly and efficiently. It does cost extra, but it may be worth it to you.  Whether you need local moving services or need to find long distance moving companies, call The Moving Gurus today at (864) 636-6364.