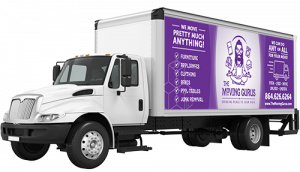 While most moving companies will pack your possessions, most families choose to pack themselves to save on moving costs. Although, it's not a bad idea to have china, or antique dishes or cherished glass items packed by a moving and packing professional.
One of the biggest mistakes most people make when it comes to packing for a move is starting too late. As a result family stress and fatigue take over as the calendar begins to close in. Moving is stressful enough without adding to it.
The time it will take to pack is dependent upon how many rooms you are moving and how much you have. Obviously, if you have books, framed photographs, electronics, old record collections, lots of dishes, kitchen items, shoes, clothes, any collections, knicknacks require a lot of box space. Once you have a firm closing or move in date start packing. Begin packing things that you will not need and do not use daily. The idea is to get as much packed as you can while leaving minimal things to pack a few days before the move. You will have a maze of boxes, but it's better than packing non-stop the week of your move.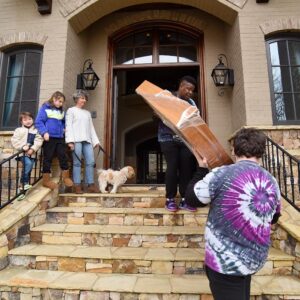 Time to declutter?
You can save time and space by deciding on items you don't want to move, but would like to donate, consign for sale, or give away. Moving is a great way to declutter your life and to get rid of things or stuff you no longer need or use. For example, if you no longer use the old encyclopedia set, or a collection of books either donate or sell them through Facebook Marketplace or a used bookstore. Since books require a lot of space and add weight to moving you can save a lot of time packing and room to reduce moving costs. The same applies to furniture you don't want to take to your new residence.
The idea of packing ahead is to reduce move week and moving day stress. When things are packed early you can also get much needed rest instead of staying up light the last week and get very little sleep which also depletes your energy and adds stress.
Ask your mover about unwanted big items. Check with Goodwill, The Salvation Army, social media marketplace platforms, consignment shops in the area and neighbors about things you might want to sell. Many movers will even take a piece of furniture and make arrangements to have it on the truck and dispose of it for you. Ask your mover if they will take any empty boxes as you empty them while they are unloading the truck. You can also check with recycling centers in your area for cardboard boxes.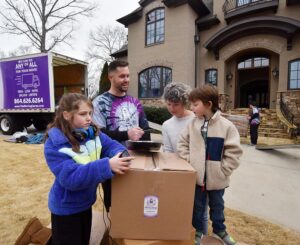 Packing Tips
Try not to overload boxes. An example would be filling a huge box with books instead of using several "book" boxes that are easier on movers back's and easier to stack in the truck. Use big boxes for linens, towels, pillows, shoes, clothing and other lighter items. When packing dishes and other fragile items use bubble wrap and foam plate liners available online or at any hardware store these days. Also don't forget mattress protectors and a roll of shrink wrap. Mark the boxes "china" and, "FRAGILE" and put those items in the same area to be packed by the movers. Many people decide to transfer valuables and fragile items in their car to insure safe arrival.
Plants are tricky. For example if you are moving to Florida the DOT inspectors will most likely refuse plants from out of state aboard your moving truck so check with your mover. You can always transport the plants in your car. Your mover will inform you of things that are not allowed to be transported by a mover such as flammable liquids and certain chemicals.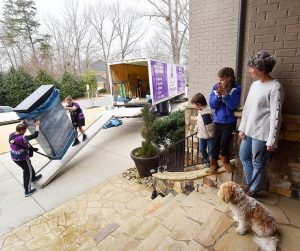 Distance is a big consideration when packing
The farther the move to your new residence the greater chances there are for damage, an accident and things out of your mover's control. So pack safer and with greater protection with fragile and breakable items if it's a long move. If you are moving across town the risk is lower. Think of it this way, the more miles you travel the greater the odds for more bumps, weather events, bad stretches of roads, and other drivers, many who are distracted these days and do not respect braking or stopping distances of big trucks on the highway when making lane changes, etc.
Ask your mover!
Professional moving companies love to help customers with packing suggestions, help and ideas. If you are in doubt contact the moving company. Some movers will provide boxes at a charge, and others will tell you where to get boxes locally at a decent price. Your mover might even suggest Plastic tubs (e.g. Rubbermaid, or the clear folding tops) which are great for packing and have handles for easy lifting. They can also be used to store Christmas decorations, seasonal clothes, etc., in your new residence. Remember your professional mover is there to help you and make your move less stressful, on time and safe.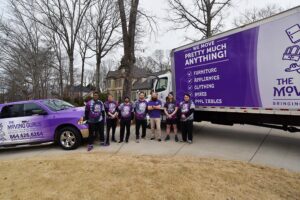 The Moving Gurus have a strong record of safe packing, on-time delivery and they carry 10X's the required insurance limits of South Carolina law including all three types of coverage. They believe providing "peace of mind" in a move is their mission and calling to all of their customers. Contact us today to discuss your move and how we can help. We will provide our Google and BBB ratings as well as proof of all protection coverages and references of those we have recently served. We take the stress out of moving!
The Moving Gurus
Phone: 864.626.6264
Email: TheGuru@TheMovingGurus.com
Snail Mail: 306 Miller Street, Greer, SC 29650