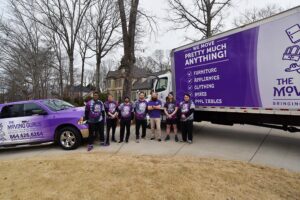 One of the best things you can do ahead of a move is to create a moving checklist and maintain a budget for the move. Your moving costs, time, and details will depend on the size of your home, your new residence, and the total items you want to move. The best plan is to start 2-3 months ahead of your physical move. This will create enough space to give you some breathing room for all the decisions that have to be made, packing, and the physical move. Try to imagine the physical moving day and what you want to take, items you want to sell, donate, or give away to friends and family.
The next step is the decision to hire a professional mover or DIY. Think through this carefully as professional movers can alleviate a lot of stress on moving day and they are insured. If your college buddy or neighbor drops an antique lamp in a self-move you won't get it back. Seek out reputable professional movers and read their online and BBB reviews. Pay attention to their coverages for loading, transporting, total liability, and the state minimums for coverage.
Moving can be a very stressful time with packing, relocation notices, closing out utilities, and establishing new accounts. A moving journal or checklist is a great way to make sure utilities, deposits, and coverages are addressed ahead of and during the physical move. Simple things like internet service, water, power, and gas can be addressed ahead of your move and save precious time. The goal is to have a smooth transition from your former residence to your new home. Planning ahead, asking questions, and having a checklist will put you way ahead of the game.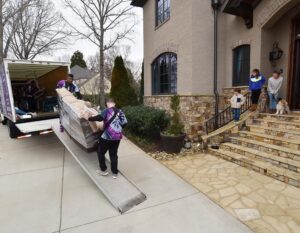 Who should you notify ahead of a move?
Notifying the USPS, utilities, and service providers at your current address and the new residence are critical. Some municipalities require in-person notification and others can be handled online or via phone. New address notifications with utilities, banks, insurance providers, and other service providers are critical.
Packing for your physical move
One of the best things you can do in preparation for a move is to declutter your possessions. What things can you downsize, donate, sell or liquidate ahead of your move? Do you want to donate items to Goodwill, Habitat, etc? Are you planning a moving yard sale? Consider the things you no longer need or use and simplify. Remember, you don't have to take everything with you on the move and downsizing will save moving costs in the long run. The less you can pack the less the cost of your move.
Packing Tips
Your local mover can provide boxes and packing materials to ensure the safe moving of your valuables. Liquor store boxes should be left to college students and their first move. Families should invest in the right kind of boxes and don't overpack. Invest in bubble wrap, packing materials, and good boxes which can be recycled. Moving companies and big box stores have a ton of resources for tape, bubble wrap, wrapping paper, and boxes.
Plan Your Packing
Don't try and pack everything in one day. This only adds to the stress of a move. Plan your packing. Think about strategically packing the rooms in your current residence based on need. Start with bedrooms, off-season clothing, and things you do not need on a daily basis. Then attack your kitchen, dishes, valuables, and keepsakes. Think ahead about the things you want to self-transport in the move like family heirlooms or valuable items. If you plan ahead you will alleviate family stress. Pack for an hour or two a day ahead of the move instead of trying to do it all at the last minute. Focus on one room at a time.
Important Papers and other Items
Never leave your insurance, banking, credit, medical, investment, and retirement papers in someone else's hands. These are items that should be secured ahead of the move and transported in your personal vehicle to ensure security and safe arrival. Put them in a binder or briefcase for security and availability once you relocate.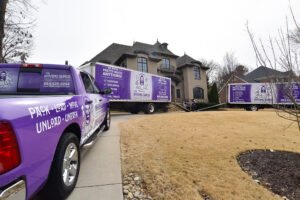 Designate Rooms
Mark your boxes to streamline and expedite your move. Movers are on the clock and helping them know where to unload is invaluable. For example, mark boxes MBR, kids room, den, great room, dining room, kitchen, etc. Moving days can be confusing and if a professional mover has a designated room for a box it will alleviate unnecessary questions and save time.
Family Essentials
Moving day is stressful so make sure you have detergent for the laundry room and groceries on hand. Know where your toolbox is because you are going to have to hang pictures, shelves and adapt. Designate one location for the toolbox so everyone knows where it is and can access it while replacing tools to a known location. Have plenty of trash bags in a central location and establish a recycling pile in the garage or a specific room.
Familiarity Is Important for Kids
When planning ahead know exactly where the blankets, comforters, towels, and linens are for each bedroom. Set them up as soon as you can to provide a sense of comfort and security for young children. Having towels, sheets, blankets, and bed linens your first night will alleviate a lot of anxiety and stress. Don't forget their favorite toys or attachments! Children need the comfort of familiarity and routine.
Resist the temptation to overpack boxes
Don't overload boxes for the movers. If you have a lot of books use designated book boxes to ensure the safety of your moving crew. For example, a sheet, bed linen, and towel-sized box should never have books. Use appropriate-sized boxes for specific items. Heavy box items should be in smaller boxes. Pillows, towels, sheets, blankets, etc., can be packed in larger, oversized boxes.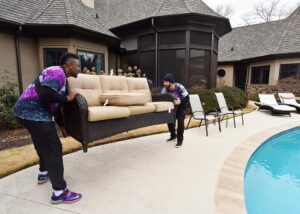 Photos
Take pictures ahead of your move for insurance purposes. Document valuables that will be packed and transported by your movers. This provides protection for your mover and you in the event of damage during transport or unloading. And if there is a family heirloom like a special clock, figurine, dish, etc., put it in your car and transport it yourself. Reputable moving companies have no problems with photo documentation.
Garage and Chemical Transportation
Moving companies have to abide by Federal and State regulations when it comes to the transport of chemicals, propane gas tanks, etc. Be prepared to move these items and transport them in your personal vehicle if you cannot repurpose them ahead of the move. Many items are flammable and toxic. Reputable movers will advise you on what can and cannot be transported on their trucks. If you are wanting lawnmowers, chainsaws, weed eaters transported on the mover's truck empty all flammable liquids from them ahead of the move. Your professional mover can advise what can and cannot be legally transported.
At The Moving Gurus, our mission for every move is to reduce the stress and anxiety on families. The Moving Gurus have a strong record of safe packing, on-time delivery, and they carry 10X's the required insurance limits of South Carolina law, including all three types of coverage. They believe providing "peace of mind" in a move is their mission and calling to their customers. Contact us today to discuss your move and how we can help. We will provide our Google and BBB ratings and proof of all protection coverages and references of those we have recently served. We take the stress out of moving!
The Moving Gurus
Phone: 864.626.6264
Email: TheGuru@TheMovingGurus.com
Snail Mail: 306 Miller Street, Greer, SC 29650