Move Like A Pro – Tips for Avoiding Stress During Move
Moving day can be chaotic and hectic. There are a lot of moving parts and when you're faced with mountains of boxes and half-packed rooms, it's easy to have your stress levels rise during the moving process. The best way to tackle moving stress is to team up with a top moving service in Greenville, SC. These moving companies offer trained teams of professional movers who specialize in moving any office, house, or apartment and help to alleviate moving day stress. Working with professional movers in Greenville, SC can help to reduce the stress of moving, but there are also ways to help yourself make the move as stress-free as possible by following a few moving tips.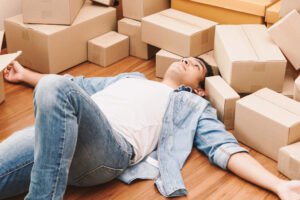 1. Make a List
Figure out all the tasks that you'll need to accomplish to make sure that moving into your new home is fast and efficient. Determine if any projects at your current house or your new home need to be accomplished before moving day, if you need to go through any sheds or storage units, which rooms need to be packed, the list goes on.
Putting together a list will help you to keep yourself organized and can be a useful tool for organizing your moving schedule to help ensure that you have enough time to organize your belongings before moving day and avoid last-minute stress or chaos.
2. Stick to a Schedule
One of the main causes of moving stress is dealing with a large number of last-minute items that need to be accomplished by moving day. A way to avoid this is by creating a moving day s
chedule that allows you time to prepare your home for the big relocation and keep the stress level to a minimum. One recommendation is to schedule a day for each room of your home. Instead of trying to pack your entire home at once, break the house up by each individual room.
The best way to ensure that you keep to your schedule is to not plan on anything for the night before moving day. If your moving day is scheduled for Saturday, schedule the packing days up to Thursday and leave Friday free. Leaving a free day gives you wiggle room to finish any last-minute items that may have fallen by the wayside or reward yourself for a job well-done with a good night's sleep before the big day and help to further reduce your stress.
3.  Plan the Layout of Your New House
Packing prior to moving is half the battle of any relocation, the other half is unpacking. Before the rental truck or one of Greenville's local moving companies arrives to move your boxes and furniture, plan ahead where all of your items are going to be placed in your new home. If you determine a place for everything and label your boxes to reflect those decisions, it will help your movers, keep your costs down, and reduce the stress of moving.
Planning ahead for moves can help to make you more efficient and make sure that any fragile or large belongings are managed by professional teams like Greenville's piano movers and furniture teams.  Utilizing these skills and understanding how you want your home to be organized will limit the amount of time and effort required by you and your family after the movers leave.
4. Set Boundaries for Yourself
Planning a move is always a big project and one thing that always contributes to the stress of moving is not being willing to delegate the workload. It's easy to take on too many projects when moving to a new home and becoming overwhelmed. When starting to plan your moves, set boundaries for yourself in what you're willing and able to take on.
Figuring out your comfort zone will help you to better understand what you are willing and able to manage yourself during the move and when to ask for moving help in Greenville, SC. Understanding when to ask for help can also help to ensure that you're not taking on too many projects and have enough time to move to your new home with less stress and less interference in your day-to-day life.
5. Utilize the Skills of Professionals
Moving your home or apartment to a new place automatically comes with stress. You're already worried about renovation, paperwork for your new place, or maintaining your already busy schedule in the midst of a move. Why add more moving stress by taking on additional projects that professional moving companies near Greenville, SC are trained to move your belongings securely and efficiently to give you peace of mind.
Not only do professional movers provide relocation and truck rental support, but they also offer skills and wisdom that can assist with other stressful moving items. Professional moving teams can provide boxes, help you box-up and pack your belongings, and offer recommendations regarding the moving of heavy, fragile, and valuable items in addition to the team support provided during the transportation of your things. Utilizing these skills in your moving team can help to keep your costs low, stress levels low, and work with you to make the move process as stress-free as possible.
Moves are stressful, it often can't be helped, but utilizing these skills and teaming up with a preferred Greenville, SC moving company can alleviate the stress and anxiety that comes with relocating your home. Finding a full-service, top-tier moving company in Greenville SC has never been easier. The Moving Guru's have a trained team of professional movers who offer a wide variety of moving skills. These professionals can offer recommendations, answer all of your questions and help to ease the stress of any move, whether you're moving down the street or across the country. Call Greenville's preferred local moving company for a quote today to start planning your move and find out how The Moving Gurus can help reduce the stress of a move!