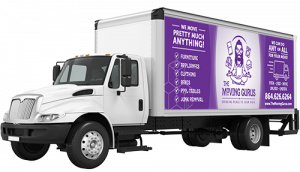 While the Upstate of South Carolina has relatively mild winters, there are still "winter event" days with rain, snow, and ice. Winter moving can be tricky on flooring and entryways with heavy foot traffic required in moving. Rain, snow, and ice can also challenge movers to make sure they are protecting your household goods and possessions during load-in and load-out.
One of the most important things you can do for a winter move is to watch the local forecast ten days out from your moving date. Note changing weather conditions, impending fronts, and communicate with your moving company. Responsible movers will not take chances in awful weather conditions but also know how to minimize stress on rainy and post snow days as they protect your possessions.
Packing for Winter
Packing and moving preparations are essential in any move, especially on fair weather days. When seeking a mover during the winter, ask how they prepare for and deal with inclement weather during a move. For example, would they recommend that those favorite hand-stitched grandmother quilts go in a box or a rubber/plastic tub? How do they protect floors during the move? Ask about the protection of hardwood antiques and family heirloom items.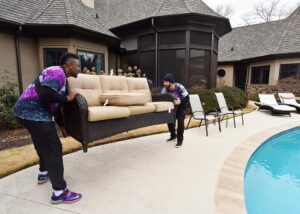 As you pack ahead of the move, think about specific items and their possible exposure to the elements. Make sure all your boxes are securely taped and sealed. Consider items that you would instead transport in your vehicle. Many customers choose to seal paintings and artwork in plastic wrap. Electronics are another essential consideration when trying to limit water exposure. Your moving company will all kinds of suggestions and help with packing ideas.
Insurance Coverage
When selecting a professional mover ask what type of insurance coverage they provide. If it's only the minimum amount required by state law you should look for a company that provides expanded coverage. You can also ask to see a certificate of insurance coverage. If the company hesitates to provide proof of insurance you should seek out another vendor. Ask about coverage of your possessions while the truck is parked and being loaded.
There are three types of coverage: protection on your goods during loading, unloading, and transport; accident if there is a transport incident; and liability. You should also ask about their worker's compensation coverage. What if a mover slips and falls in the rain on your property while loading or unloading the truck?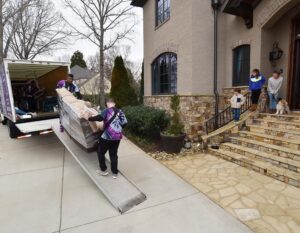 Your Goods Are Our Goods
Like any industry, there are good and bad moving experiences. Make sure you have a mover that enjoys a strong reputation for customer service and satisfaction. Check their online reviews and their BBB rating. Ask prospective movers for referrals from customers who have used them within the last six months. Ask them about their insurance rating and claims by customers within the last year. Reputable movers will be happy to provide you with any and all necessary documentation and answers to your questions, they understand the stress and expense of moving. You want movers who are experienced, knowledgeable, understanding, who will treat your possessions like their own. This kind of team will make your winter move experience a pleasant one.
At The Moving Gurus, our mission for every move is to reduce the stress and anxiety on families. The Moving Gurus have a strong record of safe packing, on-time delivery, and they carry 10X's the required insurance limits of South Carolina law, including all three types of coverage. They believe providing "peace of mind" in a move is their mission and calling to their customers. Contact us today to discuss your move and how we can help. We will provide our Google and BBB ratings and proof of all protection coverages and references of those we have recently served. We take the stress out of moving!
The Moving Gurus
Phone: 864.626.6264
Email: TheGuru@TheMovingGurus.com
Snail Mail: 306 Miller Street, Greer, SC 29650