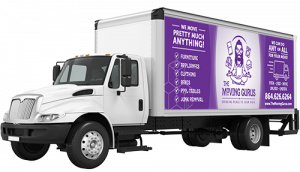 Many people move to temporary locations like apartments, with family, or home rentals until their new home is ready to be occupied. Often, there is just too much stuff to take, and there is no space in the temporary residence. Storage facilities are a great way to store your belongings that will not fit in the temporary residence.
Over 10% of Americans have a storage unit at a local storage facility. Yes, over 13 million people in the U.S. have a storage facility for a variety of reasons. So if you are selling and need to move quickly into a temporary residence but need to store things here are some tips to help navigate the choppy waters of storage units.
Pods are great, but if you have weather-sensitive antiques, electronics, furniture, and possessions you need to make sure you are using a climate-controlled storage facility. Don't cut the cost corners and take the risk that your home goods will survive humidity in the summer months or damp conditions in the spring and winter. The adage of "rather be safe than sorry," applies to storing your possessions.
Do your homework on storage facilities that are close to your ultimate landing destination. This will make the move from storage to your residence cheaper and more convenient. Secondly, check out the prospective storage facility on Google Reviews, the Better Business Bureau, and Facebook reviews. Make sure you are dealing with a secure, safe, and reputable storage facility. All storage facilities in your area are not equal!
Ask the storage facility about climate controls, security, and insurance options. Also, check with your home insurer to discuss coverage for stored goods in a storage facility. You may find that your insurance provider can offer better rates at a discount if you are using them for your new residence and auto.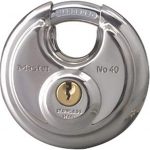 Locks Are Important
Having the right lock in a storage facility is so incredibly important. There are locks that can be picked or cut within a short amount of time by burglars. Invest in a lock that protects you and will make "would-be thieves" pass on your door versus those nearby who have easily picked or hacked locks. Masters Locks makes a great round lock for these applications, but make sure you consult a hardware professional before purchasing.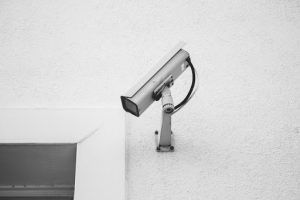 Location Security
When you investigate possible storage facilities make sure they have video surveillance and alarm protection. Ask to see their certificate for protection and to review the latest video activity. Make sure the facility is only accessible through a code or keycard. It's not a bad idea to visit the facility at different times of the day to check out the activity, or people accessing storage units. This will give you an idea of the kind of activity that takes place at a prospective storage facility. You can also contact local law enforcement and inquire about alarm codes, or robberies at the facility.
Movers and Storage Facilities
It's important to ask your mover if they will offload things from a full household of goods to a storage facility en route to your temporary residence. You should avoid moving twice in one move! Most reputable movers will agree to move your storage items to a safe and secure location before unloading items in your temporary residence. If they won't accommodate your request then select another moving and storage company. Remember, you are the customer and you need to get exactly what you want!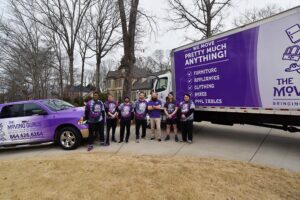 The Moving Gurus have a strong record of safe packing, on-time delivery and they carry 10X's the required insurance limits of South Carolina law including all three types of coverage. They believe providing "peace of mind" in a move is their mission and calling to all of their customers. Contact us today to discuss your move and how we can help. We will provide our Google and BBB ratings as well as proof of all protection coverages and references of those we have recently served. We take the stress out of moving!
The Moving Gurus
Phone: 864.626.6264
Email: TheGuru@TheMovingGurus.com
Snail Mail: 306 Miller Street, Greer, SC 29650