The Holidays, whether Thanksgiving, Christmas or New Year's can be stressful. There is the added expectation of the holiday itself coupled with the normal stress of moving. However, it doesn't have to be!
Professional and reputable moving companies understand the pressures of holiday moves. They have families and traditions just like you so they understand the dynamics of such a move!
A holiday move just requires a little added patience and additional planning for the family who is moving. Plan your move accordingly. While moving at the holidays is not the greatest time to move it doesn't have to be chaotic or stressful.
Help your family prepare for the move intentionally. If you have young children assure them that the holidays will be ever present with your family despite the change of residences and the move.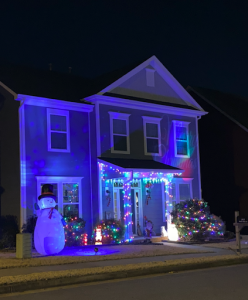 Work Ahead
Plan for your packing and physical move weeks before the event. Communicate to you young children that their special day will not be ignored or forgotten. Plan your packing ahead of time and if possible, get a Christmas tree and have it decorated in your new residence ahead of the actual moving day. This way young children will arrive at their new home with a tree in place. Familiarity has a way of settling young children and adults as well.
Decorate your new residence! It's ok to scale back your decorations on a short timeline with a closing and move date so close to Christmas, but any sense of normalcy will reassure children and your family that tradition is valued.
You don't have to keep with the Joneses this year! While holiday decorations are incredibly important to many families and homeowners it's ok to do less in the year of a move. This decreases the family stress level but reassures children that everything is ok.
Communicate Ahead of the Move
It's very important ahead of a holiday move to discuss it with young children or aging parents who live with your family. Letting them know what and when is very important. What is involved in preparing and packing for the move in addition to moving day expectations. Don't assume aging parents or small children understand what's going on. Walk them through the why's, how and when of the event. This will go a long way in alleviating stress during the physical move. Assure young children that the holidays will be celebrated and not short-changed due to the move. Invite them to help create new family traditions at the new residence. Decorating the new house, exterior decorations and lighting can be a big thing for children and even aging parents.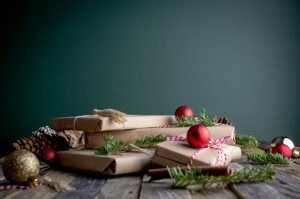 Guard the Holiday
Whether your move is around Thanksgiving, Christmas or New Year's help guard the holiday by ensuring sacred family traditions will continue. If turkey, ham, or brisket are your family tradition, embrace it even if you have to adjust by securing the entree from outside sources this year. The key is to limit stress while stoking the flames of your specific family tradition. However, don't be overcome by having to prepare a giant family meal during a move. You can alleviate a lot of stress and headache by outsourcing the turkey and trimmings, but still gather at your table in your new home to celebrate.
Create new traditions at the new residence with your family and kids. Plant a tree, collect leaves and press them with an iron and wax paper to commemorate the day. Take pictures together in the new home. Hang familiar decorations or trimmings, but you don't have to go all out. Kids just want to be assured during the holidays and while you may have to scale back during the move year, just seeing something familiar at the new location will reassure them that they are ok.
New Opportunities
This may be the perfect time to have the entire family serve at a local homeless shelter or holiday feeding non-profit. Collect items from the move to donate to non-profit organizations such as Habitat for Humanity, The Salvation Army and Goodwill. Donate the goods together as a family. Engage your new community and embrace HOA activities such as tree lightings, community decorating, etc. This provides the opportunity to meet your new neighbors and build relationships that can last a lifetime. Engagement is critical when moving to a new neighborhood and the holidays provide the best opportunity especially with young children.
Time Capsules
One way to engage children is to bury a time capsule when you move during the holidays. Put in pictures, treasures and other memorabilia then dig it up during the same holiday one year from now. Young children love this and it creates a sense of ownership and responsibility for them in addition to the expectation of digging it up the next year. It could become an annual family tradition!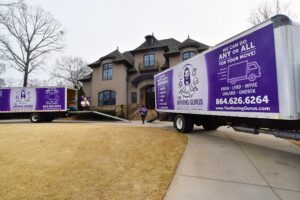 Communicate with Your Mover
If you have any special needs, requests or requirements about a holiday move, communicate with your mover in advance of the physical move.. Reputable movers will be sensitive to family needs during a time of transition and are more than willing to go the extra mile to smooth the transition.
As you contemplate a holiday closing date and move, be mindful of the adjustments and stressors your family will experience. Anticipate challenges and stressors ahead of the move and talk about them with your family. Families that do are more apt to be prepared for changes or disruptions to their normal routines. This will pay huge dividends in adjusting to the transition of a new neighborhood and home.
The Moving Gurus have experience with moving families with young children, adolescents and elderly parents. Our mission for every move is to reduce the stress and anxiety on families. The Moving Gurus have a strong record of safe packing, on-time delivery, and they carry 10X's the required insurance limits of South Carolina law, including all three types of coverage. They believe providing "peace of mind" in a move is their mission and calling to their customers. Contact us today to discuss your move and how we can help. We will provide our Google and BBB ratings and proof of all protection coverages and references of those we have recently served. We take the stress out of moving!
The Moving Gurus
Phone: 864.626.6264
Email: TheGuru@TheMovingGurus.com
Snail Mail: 306 Miller Street, Greer, SC 29650