How To Choose The Best Long Distance Movers
Moving your home or business to another state can be a frustrating process but teaming up with a professional moving company can ease many of the headaches that come with long-distance moves, interstate moving, and local moves. Teaming up with the right moving company for your needs is an important decision when considering the best movers for your belongings. To make the right decision regarding choosing the best moving company for your needs, it's important to evaluate the needs that are most important to you.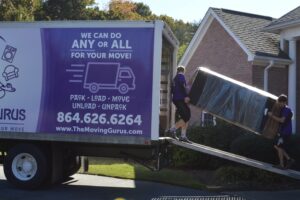 Long Distance Moving
When asking yourself – "How do I find a long distance mover?" it is absolutely necessary to evaluate your needs and the needs of your move to determine what services to look for when requesting a moving quote and ask yourself important questions.
Do I need a full-service moving company?
Do I need packing and unpacking moving services?
Will I need an overnight moving team?
What do long-distance moving companies offer?
Will I need storage for my belongings during the upcoming move?
It's important to understand your move, and working with an experienced long-distance moving company can help to answer these questions and ensure that your move, whether it's across town or across the country, is designed and organized to meet your specific needs.
Packing and Unpacking 
When moving your home or business, the packing process for your belongings can be tedious, especially when moving a long distance. You want to ensure that fragile property is packed and treated carefully. Finding a team that will quickly and efficiently pack your items is crucial to a painless long-distance move.
When you establish a relationship with full-service movers that can offer a quote for packing options available, you ensure access to the supplies necessary for a safe and effective move without over-buying on packing supplies. Additionally, working together with a moving company that offers unpacking services will make your new house feel like a home more quickly than spending huge amounts of time unpacking yourself and includes disposal of moving supplies for your convenience.
Managing Large and Delicate Items
One difficulty regarding long-distance moves is managing large pieces of furniture and finding movers that are equipped and capable of safely and securely moving large pieces and antiquities that you may have. a long-distance move can be a challenge with large or fragile items and ensuring that you have an experienced team can make all the difference when working to ensure that your belongings arrive safely.
Working with an experienced long-distance moving team with a proven track record can give you peace of mind and confidence regarding entrusting your property with a team of long distance movers. This confidence can help to make your move as easy and efficient as possible, taking away a lot of stress that comes with moving.
Overnight Moves
When moving long-distance or searching for moving companies that can help you move cross country, it may be necessary to plan a move that will take several days to ensure that your belongings are transported safely and securely to your new home. Teaming up with a company that specializes in out of state moving will work with your schedule to ensure that you have a team of movers that will plan and schedule your moving day for an easy transition.
Working together with the best moving companies will ensure that you have movers that are experienced and equipped to ensure security when transporting your belongings across the country during any interstate moving process.
Storage
If you working to move long distances, oftentimes it can take a few days or weeks to get fully established in the new area. This means that it may be necessary to store your belongings for a brief period of time while you finish getting established in your new area. One service that is often overlooked is that, frequently, the best mover company can also provide the best short-term storage solutions for your household needs.
Full-service out-of-state movers not only help you navigate the long-distance moving process but also can help to store your belongings if your moving timeline changes. When considering movers for out-of-state or movers for cross country moving services, it's important to ensure that, when requesting a quote, that you consider utilizing a company that offers moving services which include storage options in the event of any changes to your moving plan.
Finding The Right Long Distance Moving Company
Long-distance moving companies can be an essential asset for your moving experience and while you may know what services you need, you may not be quite sure how to determine the best long distance moving company for your needs, but there are a few tips to finding the right company for your long-distance move —
   Do your research— Most established movers will have a website that offers their comprehensive list of services and how their team works to accomplish the goals for your moving day.
   Request a quote— When determining the services necessary for your long-distance move, it's important to ensure that these needs are met in your budget. Requesting a moving quote that outlines all of your needs and offers you stable pricing will help to ensure that your needs and budget are met.
   Read reviews— Finding customer reviews regarding the long-distance movers and local moving services that you are considering. The best way to evaluate any business is to read comments from previous customers who can comment on customer service, timelines, and how well their needs were met during the moving process.
How do I get started planning my long-distance move?
For those in Upstate SC, the top choice for finding an experienced team for long-distance moves is simple. The professional movers with The Moving Gurus offer a variety of full-service options and availability to bring you peace of mind no matter where you are planning to move.
Call The Moving Gurus to start planning your long-distance move today!