Finding the Best Greenville, SC Moving Company – 6 Questions to Ask
Whether you're looking to move across town or across the country, finding the right moving team for your home or business in Greenville is important and there are a lot of factors to consider. When you are ready to move, you may ask yourself questions like: "How much furniture do I really have?" or "How big of a truck do I need?" when the questions that you should be asking are: "How do I find a reliable Greenville moving company?" and "How do I find a moving company near me?". Finding a reliable Greenville SC moving service will answer a lot of the questions that you have regarding the services that you need for your furniture and belongings, including truck needs, or moving and storage support. When it comes to finding moving companies in Greenville SC, there are a lot of options, but to choose the best movers, there are questions to keep in mind that will help choose the right team for your move.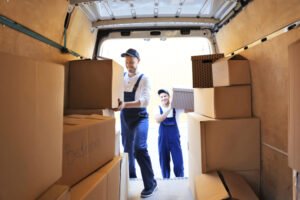 Does this moving team offer reliability?
Reliability from a moving company is essential. You want to ensure that your moving day is efficient and that your furniture and belongings are handled with care. Hiring a professional moving team can help to ensure that your distance move or local moves are on schedule and that your moving services, truck, and team needs are met. Your service quote should include everything you need to know for your upcoming move and will be able to help you understand the reliability of the moving company for your needs.
Will this moving team work with my budget?
When considering Greenville SC movers, maintaining your budget is a necessity and can be a big determining factor in choosing a local moving company. To stay within your budget, there are ways to ensure that you are finding affordable Greenville movers while still meeting your needs.
Know what moving services you'll need – If you know how far you're moving, if you'll need packing and unpacking support, if you'll need moving storage, and any other pertinent information, it will help you to avoid unexpected fees and maintain your budget.
Take advantage of free quotes – most reputable moving companies will offer quote service options that can help you to determine what services your budget can incorporate. It can also help you with determining service options that you might be on the fence about. Requesting a free quote from a local moving company can help you figure out if additional service needs (such as moving storage) can fit into your budget. You may even find that your budget allows for more services than you originally thought.
Is this moving company quick and efficient?
Moving day is usually chaotic and stressful, negotiating furniture and fragile belongings, but teaming up with movers in Greenville, SC that understand your truck needs, are experienced with large furniture and fragile belongings, and can utilize these skills quickly and efficiently can make all the difference during your move. Top tier professional moving companies are equipped to manage your truck, furniture, and distance needs to ensure that your home or office is transported effectively to make your moving day seamless.
What services does this moving company offer?
Finding a moving company that's right for your move, whether local or long distance, can mean a variety of different things, including service options like storage and packing services. Sometimes there can be hiccups during the moving process, and finding a moving company that offers short-term storage options for your furniture and belongings can make all difference in easing the stresses that come with any move. Finding a reliable team with a variety of service features like moving and storage or packing and unpacking will help to give you peace of mind and make your move as easy as possible.
Can this team handle long distance moves?
Local and long-distance moves can seem similar but working with a moving company that is experienced with both can be hard to find. Local moves are typically managed within a small, designated time frame, while a long-distance move can take several days as well as require moving and storage. When considering the moving services that you need for a long-distance move it's important to consider every obstacle that could occur during the moving process. This means that you need to find a team trained to handle moves that require out of state travel, overnight moves, and truck maintenance.
In addition to extensive travel requirements needed for long-distance moves, it's also important to find movers that offer moving and storage in Greenville, SC. Having access to a full-service moving company can ease a lot of concerns and questions about your move. If you were, for example, able to sell your home a few weeks before closing on your new home, it may be necessary to utilize moving storage until all of the paperwork on your new home is completed. Working with movers that offer moving storage as an available service can help to ensure the safety and security of your possessions while you finalize crucial parts of your move and give you peace of mind during this time. Whether you think you'll need to utilize storage or not during your long-distance move, requesting a quote for storage services with your moving company can help to ensure that your move doesn't have any unexpected roadblocks.
Does this moving team provide care in all its services?
Making sure that your items arrive securely and on schedule should be the priority of any moving service company. The best professional moving companies will ensure that the highest level of care is taken when it comes to your furniture and possessions. One of the best ways to evaluate this is to check their online customer reviews. Moving is a big venture and previous customers are the best reference when it comes to understanding what you can expect with the movers that you are planning to work with. Reading reviews when considering the best movers for the moving services that you need can be crucial in helping to decide who to trust your move to and help ensure that, wherever you're going, your possessions will make it to your new home or office securely and on schedule.
There are a lot of things to consider when choosing the right moving company. If you're moving in Greenville, SC the choice is simple. The Moving Gurus offer a wide variety of services that can help to ensure that your moves are done correctly, affordably, efficiently, and securely. Call for a quote today to start planning your next move!